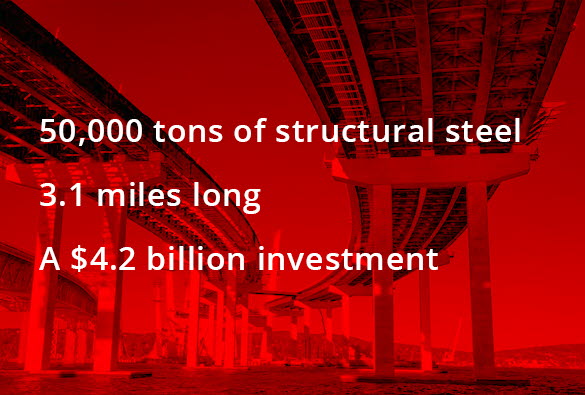 High Steel Structures LLC, a Key Contributor to the Mario M. Cuomo Bridge
At a Glance:
High Steel was one of only a few U.S. companies able to meet this project's enormous demand for fabricated steel
High Steel constructed nearly 800 girders, most weighing more than 100,000 pounds and 12 feet in depth
High Steel and High Transit met all contract commitments, with no major delays or problems
Designed and constructed to last 100 years without major structural maintenance
*Photo courtesy of New York Thruway Authority
"This is the largest contract that any High company ever executed. It puts us in a special place: We can do things that not everybody can." - Jeff Sterner, President and COO of High Industries Inc.
The Mario M. Cuomo Bridge Replaces the Tappan Zee Bridge
The Mario M. Cuomo Bridge, at 3.1 miles long, is a twin-span, cable-stayed replacement for the old Tappan Zee Bridge, crossing the Hudson River about 25 miles north of New York City. Its eight lanes carry the New York State Thruway, Interstate 87, and Interstate 287 as well as bus lanes during rush hour. Its design includes a shared-use path for pedestrians and cyclists and for future light rail or commuter rail service.
The 50,000 tons of structural steel that High Steel Structures LLC fabricated support the road deck and infrastructure for the east and west approach spans of the new bridge.
Headquartered in Lancaster, Pa., High Steel partnered with Hirschfeld Industries, with headquarters in San Angelo, Texas, to deliver the 100,000 tons of steel required.
Innovating to Meet a Massive Project's Goals: Success Factors
Given its huge size, scope, and cost, the Mario M. Cuomo Bridge project had to bring together the most capable and dependable large-capacity companies in the bridge construction industry.
High Steel's Innovative success factors included:
Retooling up front to fabricate the outsized bridge-span components
Developing purpose-designed production methods that increased efficiency and helped maintain schedules
Recoding in-house software so it met the outsized-girder specifications
Employing a rapid digital radiography method that X-rays steel thickness (for quality control) in 12 seconds instead of up to an hour
Using advanced-technology equipment—exclusive to High Steel in the U.S.—that drills bolt holes in steel parts at the top and sides simultaneously (the company drilled more than 1,400,000 bolt holes for the new bridge)
Why High?
High Steel easily met this project's requirements as one of the largest fabricators of structural steel in the U.S., delivering more than a million tons over the past 20 years.
Inspired to Join High?
Check out our positions in Manufacturing and Transportation:
APPLY NOW
REBUILDING AMERICA'S INFRASTRUCTURE
High completed an $11 million expansion of our Williamsport facility and added about 200 positions to support this historic project.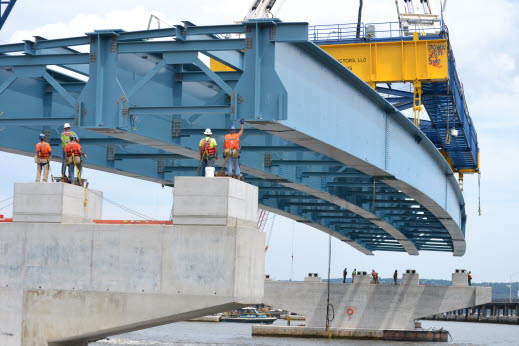 High Steel fabricated girders, crossframes, and stringers. Photo courtesy of New York Thruway Authority.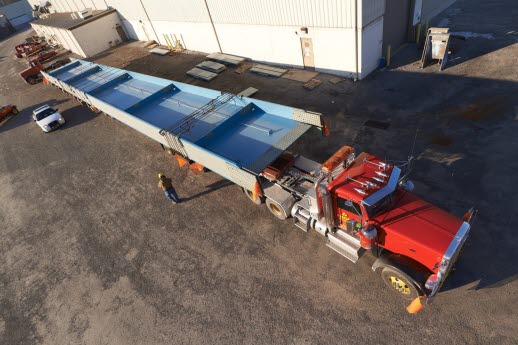 High Transit shipped more than 1,100 loads for the Mario M. Cuomo Bridge. Of these, 297 were "Superloads" weighing more than 130 tons and nearly half a football field in length.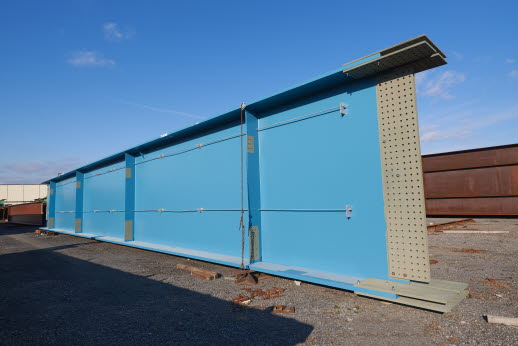 Plate girders were 12' tall, and from 60' to 160' feet in length. Tappan Zee Constructors acknowledged High Steel for superior fit and finish.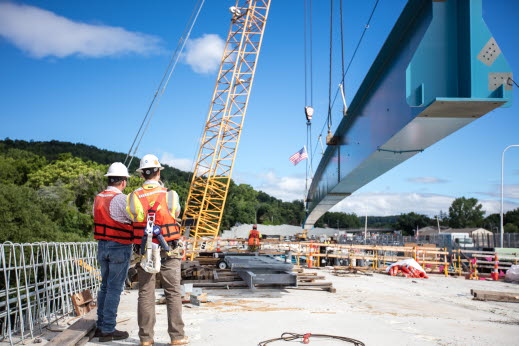 Workers on the eastbound span roadway watch the installation of the project's final girder. Photo courtesy of New York Thruway Authority.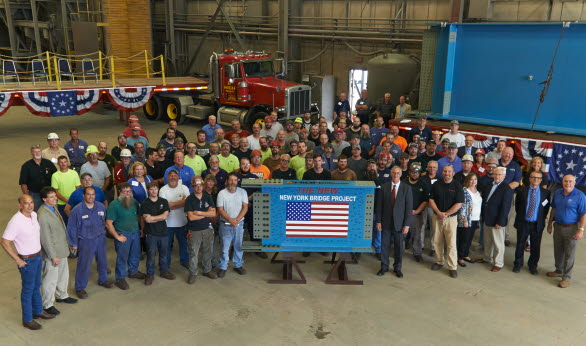 High Steel's Williamsport plant dedicated a commemorative girder during a celebration of final fabrication.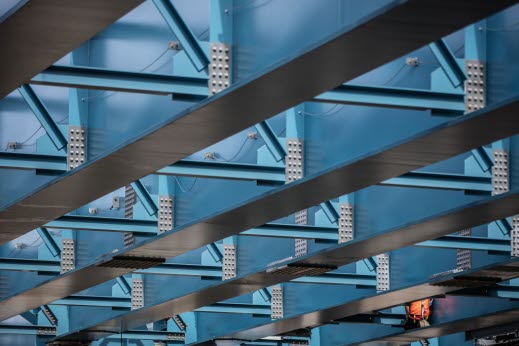 The project utilizes more than 100,000 tons of steel girders. Photo courtesy of New York Thruway Authority. See more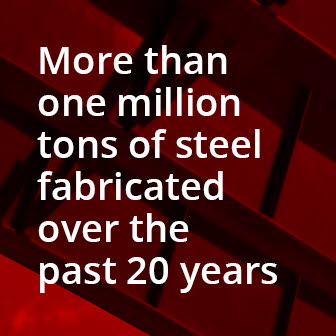 "For us, success equals opportunities for improvement." - Ronnie Medlock, Vice President of Technical Services at High Steel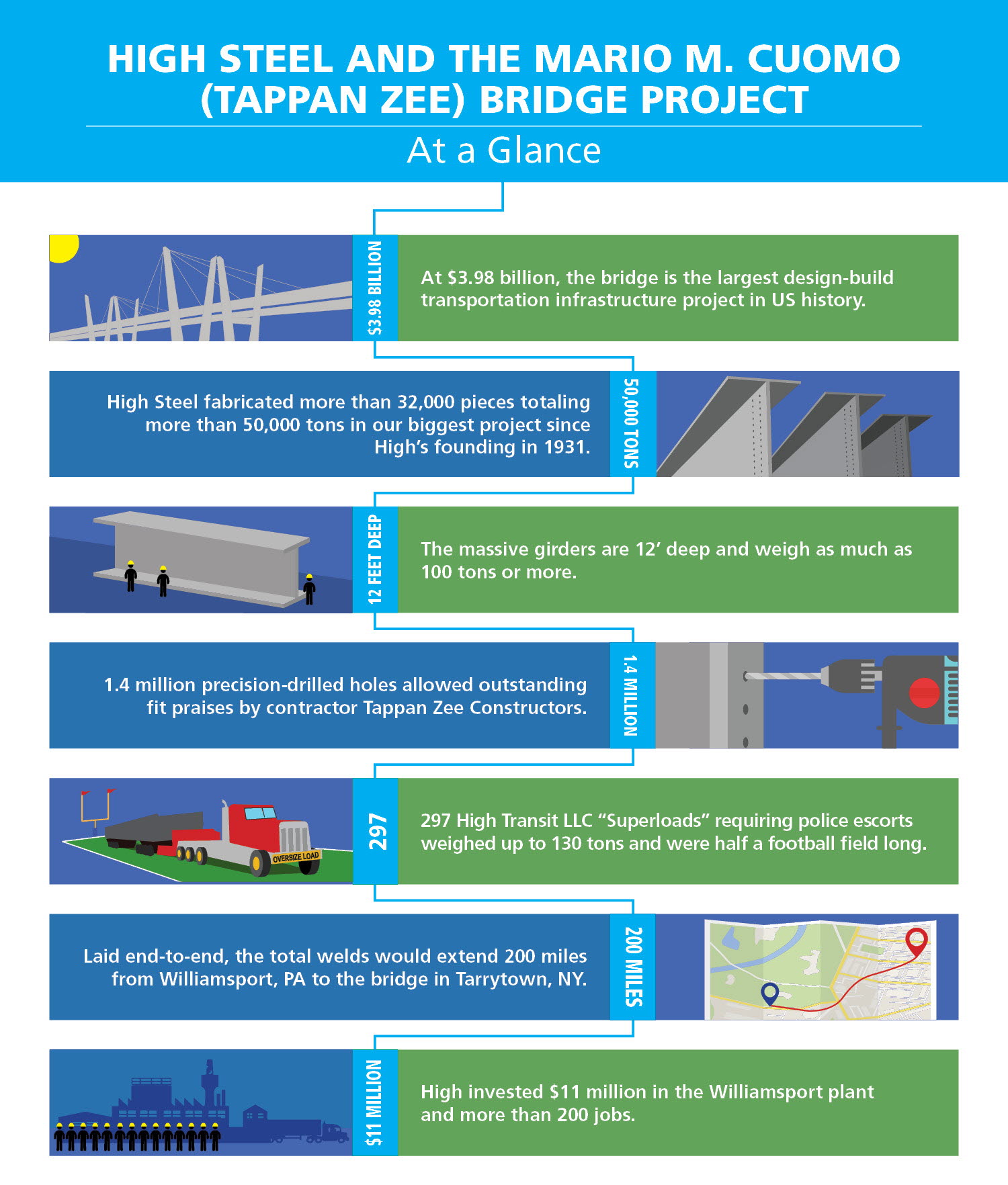 High has maintained an environment of innovation since its founding in 1931
At High, we are fortunate to work with a team of talented and engaged coworkers, as well as the very best customers, business partners, and community leaders throughout our many locations in the eastern and Midwestern United States.
While our headquarters and our organizational roots are planted firmly in Lancaster County, Pennsylvania—a vibrant and distinctively hardworking community that strongly influences who we are as a company—the values we espouse, including honest hard work, trustworthy relationship-building, and innovative leadership, are shared by all co-workers throughout our businesses.