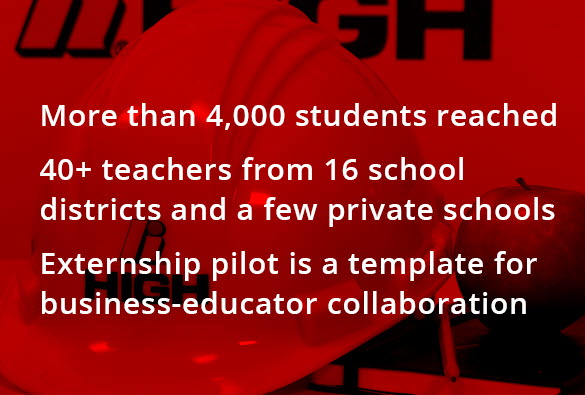 High Helps Set the Template for Business-Educator Collaboration
At a Glance
Students need support to fully understand and appreciate STEM career opportunities.
High collaborated with community leaders to develop and pilot a three-day workshop for educators to bring STEM careers to life in the classroom.
The program's success made it a template that other area employers follow.
High is committed to helping align educational programs with workforce needs.
"This is why I became a teacher." – Externship participant
Close the Gap in STEM Career Understanding
In 2017, the High organization became the first employer to pilot a Rational Career Exploration Externship with Lancaster County educators. This was an important new collaboration between High and the Lancaster County STEM Alliance and the Lancaster Chamber of Commerce and Industry.
We came together to address the challenges young people face when choosing a career to pursue, and which education opportunities will be the best to prepare them. There are gaps in the messages students receive at this critical time in their lives, and their understanding of what businesses have to offer is incomplete. As a result, well-paying, sustainable careers are often overlooked.
This is a problem for the students, because they may end up in jobs that aren't the best match. It's also a problem for employers, who are having increasing difficulty in filling positions that require STEM (science, technology, engineering, and math) skills. As a business whose ability to grow depends on a qualified workforce, High is committed to making sure we're helping students make good, informed, rational career exploration and decisions; and to helping our schools align the educational programs with the workforce needs.
Because teachers and counselors are a primary influence on career exploration, the STEM Alliance, the Chamber, and High agreed on three primary goals for the workplace training program:
Teachers/counselors will be better informed about the depth and breadth of STEM jobs at High

Teachers/counselors will better understand the knowledge, skills, academic preparation, and average compensation associated with several positions at High

Teachers/counselors will make connections with High co-workers who can serve as resources to them throughout the school year
HIGH BUSINESS LEADERS SHOW THE WAY
With 10 business units operating in industries as diverse as steel bridge fabrication, precast concrete, and architectural design to hotel construction and management, we offer a wealth of career opportunities. The Externship was a three-day pilot that brought together roughly 45 educators, administrators, and a few additional guests so they could see first-hand the versatile range of careers that are available at the High companies. Representing 16 Lancaster County school districts and a few private schools, these key influencers got hands-on experience with welding, pouring concrete, construction, engineering, and information services and more.
The feedback was overwhelming. Educators were thrilled with the experience, and couldn't wait to get in front of their classes to share what they had learned. "This is why I became a teacher," said one participant. The Externship connected and resonated with them and thousands of their students, and is a model for workforce development collaborations.
More than 50 High co-workers devoted hundreds of hours of preparation to this extraordinary effort and outstanding outcome. This was a great honor for High, and a great step forward for career readiness and for the future of our workforce in Lancaster and Central Pennsylvania.
Three Days of Learning
The Externship gave teachers fun, hands-on experiences that sharpened their STEM career messages for students.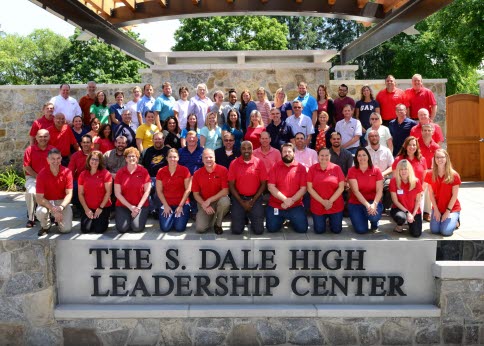 More than 40 teachers, administrators, guidance counselors and others participated in the Rational Career Exploration Externship pilot.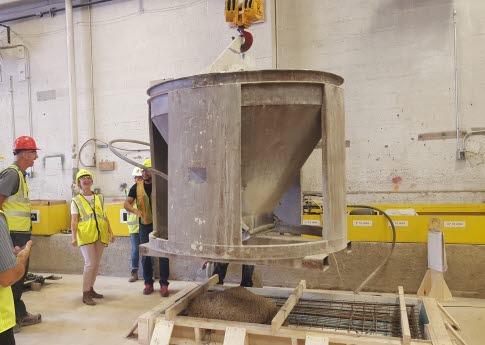 Garden Spot High School Business Education Teacher Jill Hackman laughs after pouring concrete at High Concrete Group LLC's Denver plant.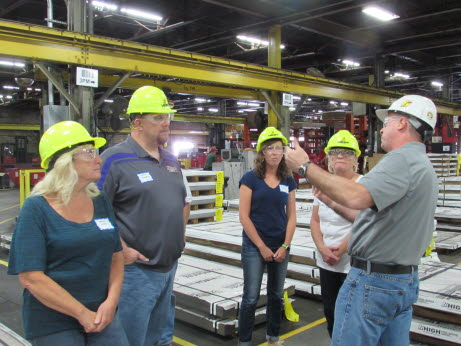 Randy Horning, Operations Manager at High Steel Service Center LLC, explains the importance of panel-flat steel and aluminum products.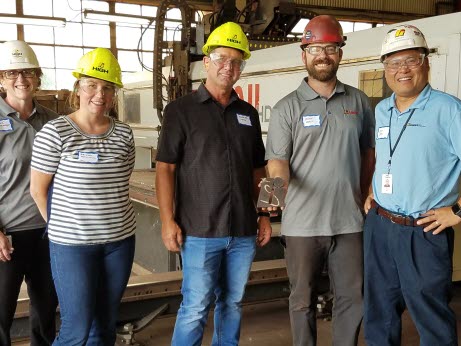 Teachers Bridget Hutchinson (second from left) and Douglas Long (center) paused during their tour of High Steel Structures LLC with Renee Entsminger (far left), Asher Vencil (second from right), and Don Lee (far right).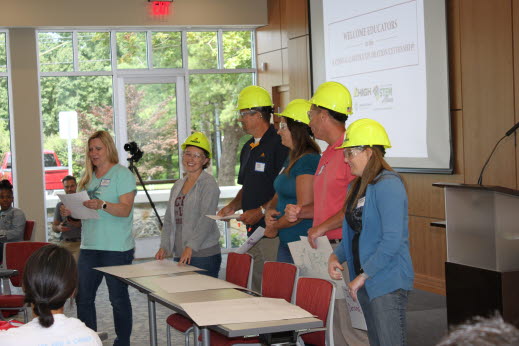 Teachers shared their plans for bringing the STEM career message to the classrooms in lighthearted group presentations.
"This was a phenomenal experience, and I am very grateful to the High Companies …. A very positive learning experience that can be carried forward to current and former students." - Externship participant